Thurrock Hammers are delighted to offer fans from across the globe the chance to own another truly unique piece of speedway memorabilia!
Back in February 2020, the Hammers hosted 'Hammerstime' at the Thurrock Hotel and we are now proud to offer a truly one-off opportunity to purchase a race-ready Thurrock Hammers bib signed by the following 5 past and present Arena Essex/Lakeside/Thurrock Hammers legends who were in attendance that evening .
Andrew Silver and Ian Humphreys from the teams of the 80s, 2016 British Champion Danny King who rode for the club in 2003 and 2014, current honorary Thurrock Hammers captain Ben Morley and Eastbourne and Mildenhall star (but in his heart always a Hammer) Jason Edwards.
The auction will close at 5pm on THURSDAY 6th AUGUST 2020. There is a reserve price for this bib of £75 as we are confident that the auction will attract significant interest.
Funds raised from the sale of this bib will be used exclusively to help fund our sponsorship of the Eastbourne Seagulls.
The leading bidder (s) will, however, be advised as the auction progresses and the club will issue periodic information about the leading amount tendered so that fans can make bids accordingly.
The winning bidder will be contacted on Friday 7th August 2020.
Please send your bid by email only please to mark@thurrockhammers.com or complete the form below.
Hammers Memory Boards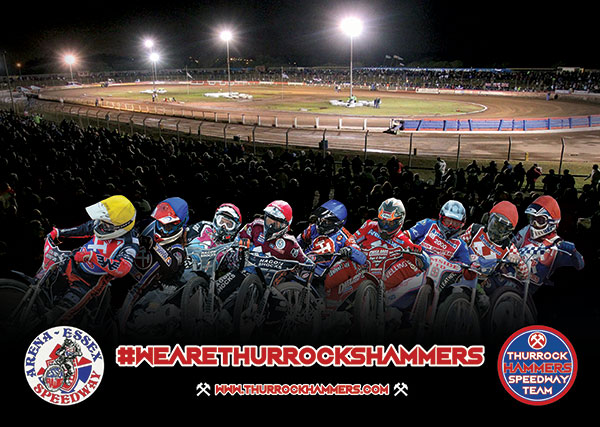 UPDATE – We still have a few History of The Hammers A3 Memory Boards available ….. just £17.99 for a special memento of our time at Arena Essex. Please contact russell@thurrockhammers.com to order yours.